Ali Murtaza
Design Manager & Strategist
Mobile Money Toolkit for Low-literate Users
Design Consultant at Grid Impact | Funded by the Bill & Melinda Gates Foundation | Lahore & Islamabad, Pakistan (2016)
Mobile Money in Pakistan
Around a 100 million Pakistanis are still categorized as unbanked, meaning that they do not have access to the services of a bank or similar financial organisation. But with over 80% mobile phone penetration, and one of the fastest growing smartphone markets in the world, a large proportion of the unbanked rely on mobile money solutions like EasyPaisa, MobiCash and UPaisa. These services allow users to send and receive money, pay bills, make loan payments, and perform various other tasks they would otherwise rely on banks for.
However, even with the recent boom in smartphone usage and mobile internet coverage, most mobile money users only use these services to send and receive money. This hinders them from taking full advantage of the power of mobile money platforms. This is especially true for women with low levels of education and income, since they often rely on a male guardian or confidant to manage their money.

The Plan
Karandaaz, an Islamabad based development finance company, hired Grid Impact, a Colorado based design firm, to help design better mobile money solutions for smart phone users in Pakistan. The primary target audience was low-literate and illiterate Pakistani women. The primary goal being to enable them to use their smart phones to become more financially independent.
I was hired as a Design Consultant by Grid Impact to conduct research and be part of their design team for this project. Our intent was to design solutions that would appeal to the broadest range of customers, from the aforementioned low-literate new users to expert users of mobile money services.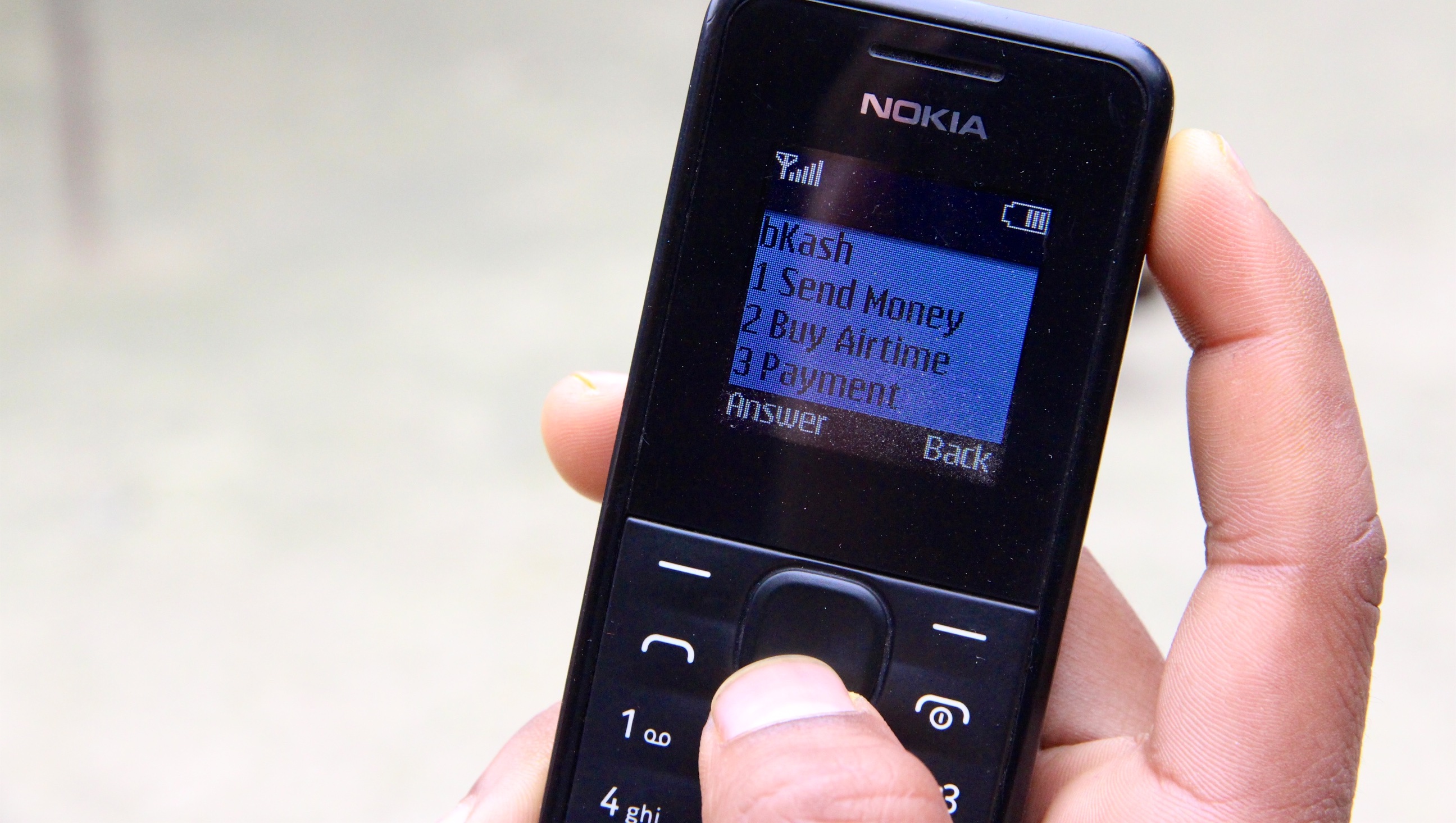 Objectives
From feature phones to smart phones
Most mobile money users still use USSD interfaces to access these services. But with ever-increasing rates of smart phone penetration in the country, we intended to develop a viable and scalable smart phone based alternative to the USSD format.
Make mobile money more visual
Since the primary target audience we were asked to design for were low-literate and illiterate, we had to make as much of the app accessible through visuals as possible.
Build trust through engagement
Leveraging social networks, gamification and other methods to keep customers engaged with the brand resulting stronger trust.
Leverage channeling partners
Smartphone apps offer a unique ability for MM providers to market other products and services to customers in a visually appealing and actionable way.
Make mobile money more convenient
Leveraging smartphone capabilities to move away from complicated USSD menus or reliance on agents will make MFS more convenient for customers and empower them with new independence.

Phase 1: Discovery
Participatory Activities
We used qualitative design research tools, including card sorting, proximity mapping and role-playing activities to facilitate rich, honest conversations with users and agents.
In-Depth & Intercept Interviews
We conducted in-depth, one-on-one interviews with each participant at his/her home or business. We also conducted shorter, intercept interviews with end-users in markets and shops.
Expert Interviews
We interviewed mobile money agents at their shops to ask them questions about their business, customers and the providers they interact with.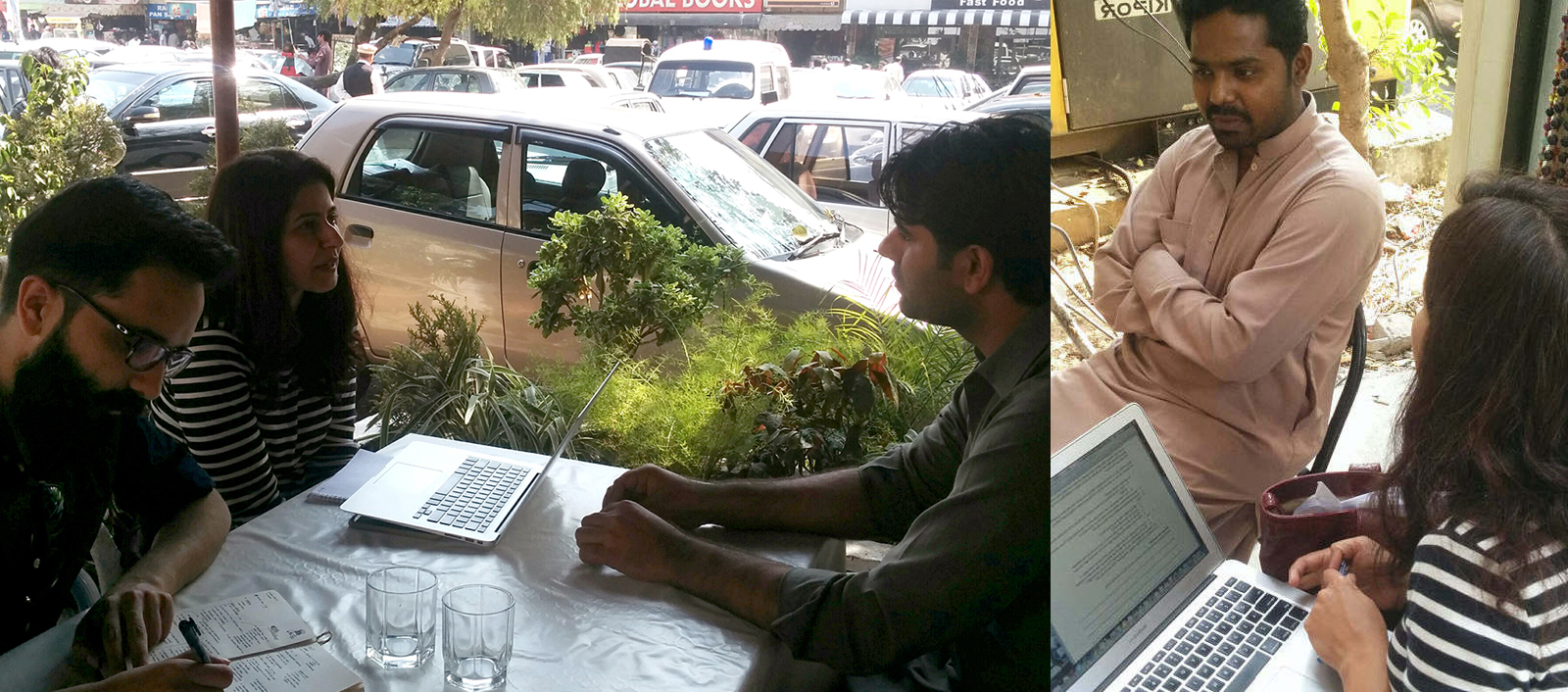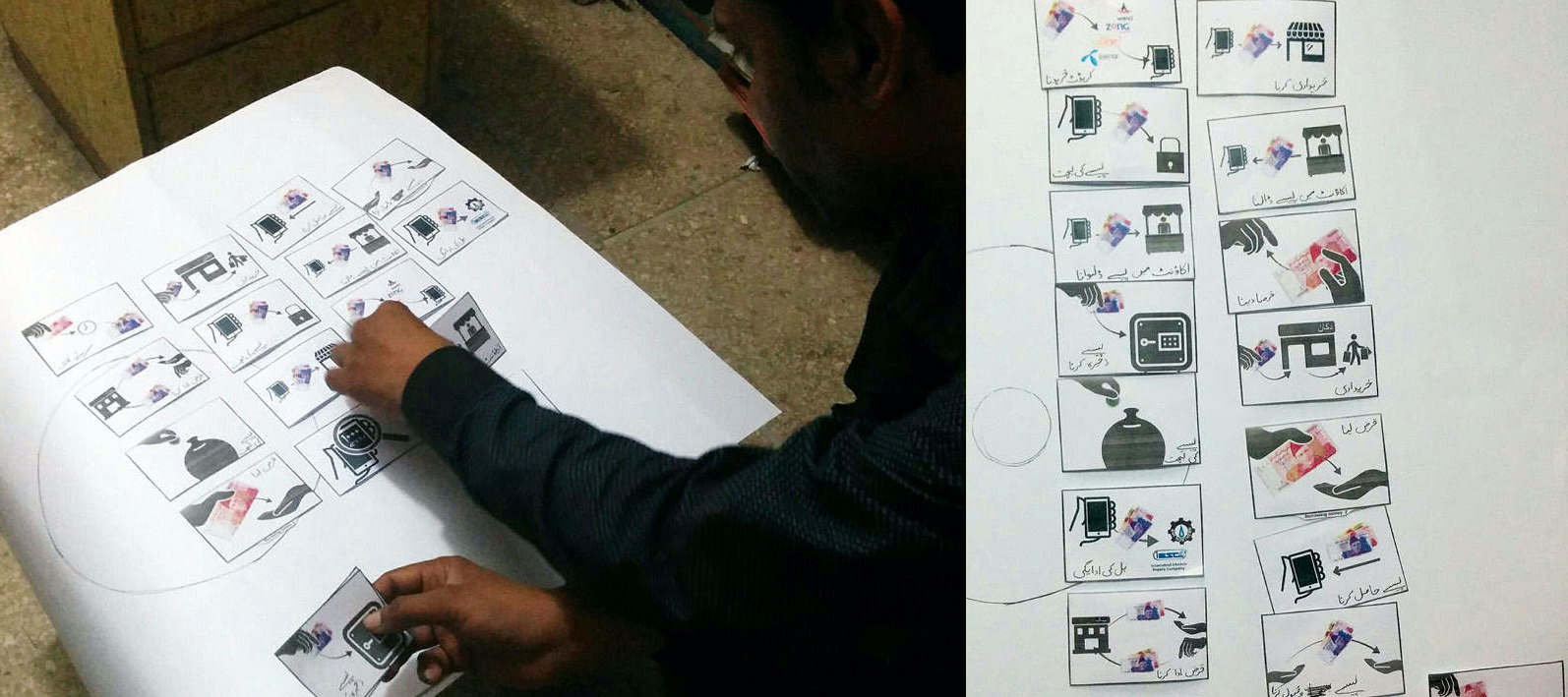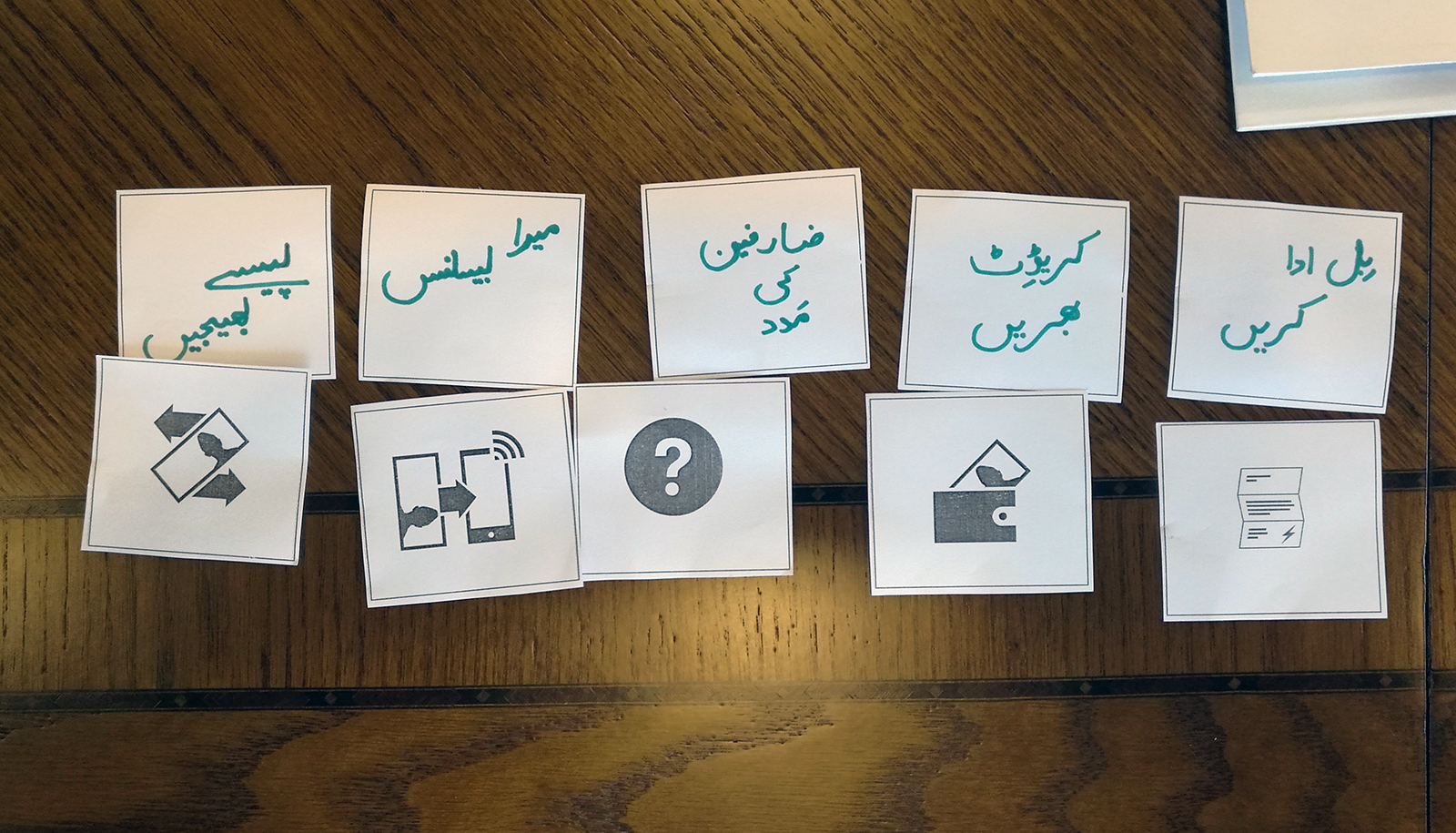 Phase 2: Concepts
Based on the hundreds of data points collected from the discovery phase, we came up with multiple concepts to present to the client. Lead Interaction Designer, Adam Little, lead this phase of the project.
Concept Ideation
Our team held a creative brainstorm to generate a range of possible solutions, approaches and features that responded to the specific behavioral insights uncovered during the Discover phase.
Interaction Models
With Karandaaz, we developed three feasible approaches to a UX design for the smartphone app. Each concept attempted to address several of the key behavioral insights developed during the Discover phase. These three interaction models formed the basis of our initial smartphone app design.
Concept Refinement
Over several weeks, we refined each of the three interaction models to include particular behavioral and UX design elements. We refined the models with feedback from UX design experts, MM experts and other relevant stakeholders. Ultimately, we selected the two most promising concepts to develop into prototypes and test with users and agents.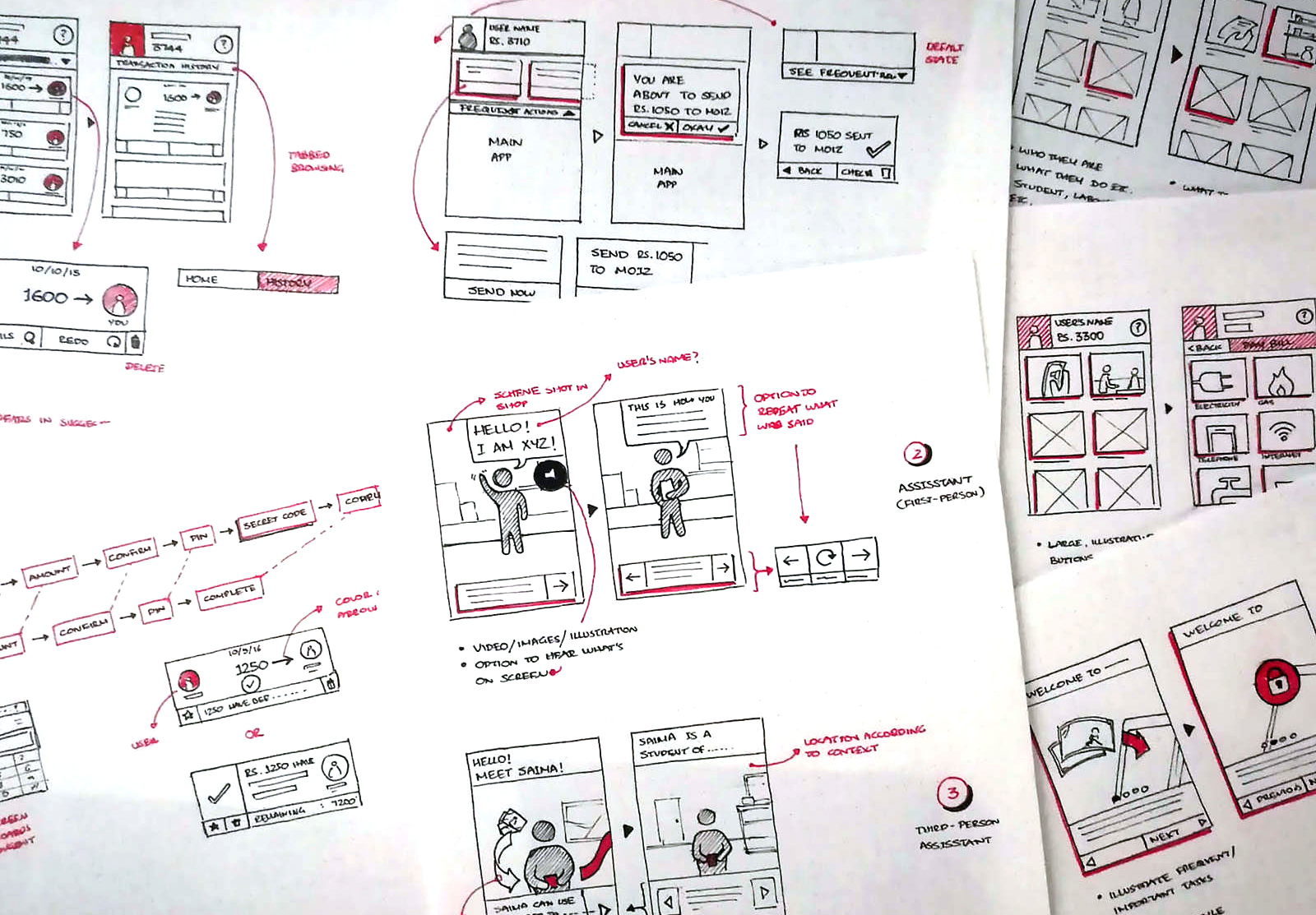 Phase 3: Sketch, Mockup & Test
In this phase, we tested different parts of our concepts with end-users using an iterative, collaborative process. As we collected feedback, we iterated and revised our concepts, increasing their fidelity over time. We followed a co-creation model where end-users were part of our design team, suggesting icon designs, feature ideas and more. We utilised card sorting extensively through this phase, for everything from selecting the appropriate visual detail for icons to understanding the comparative ease of use for different flows.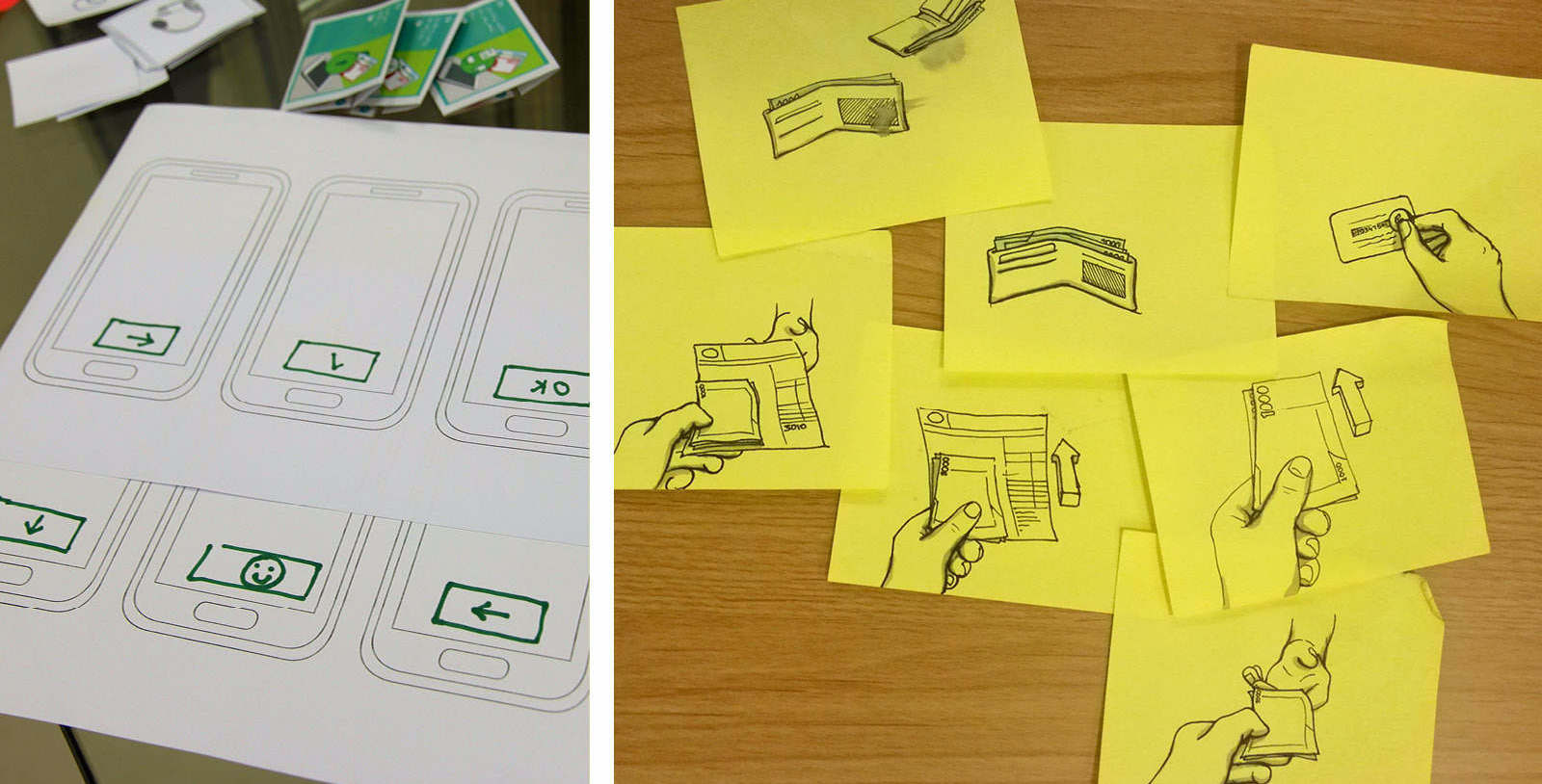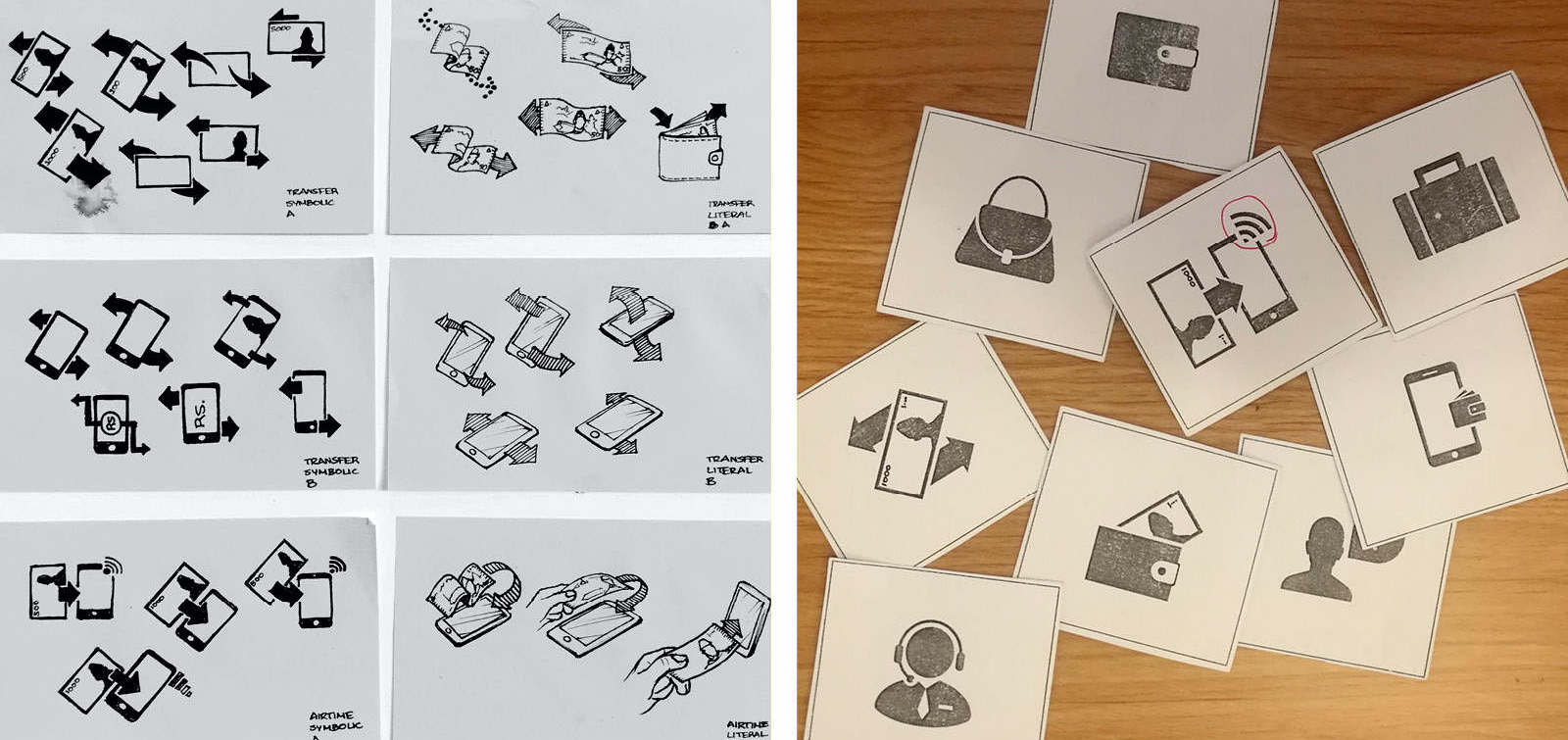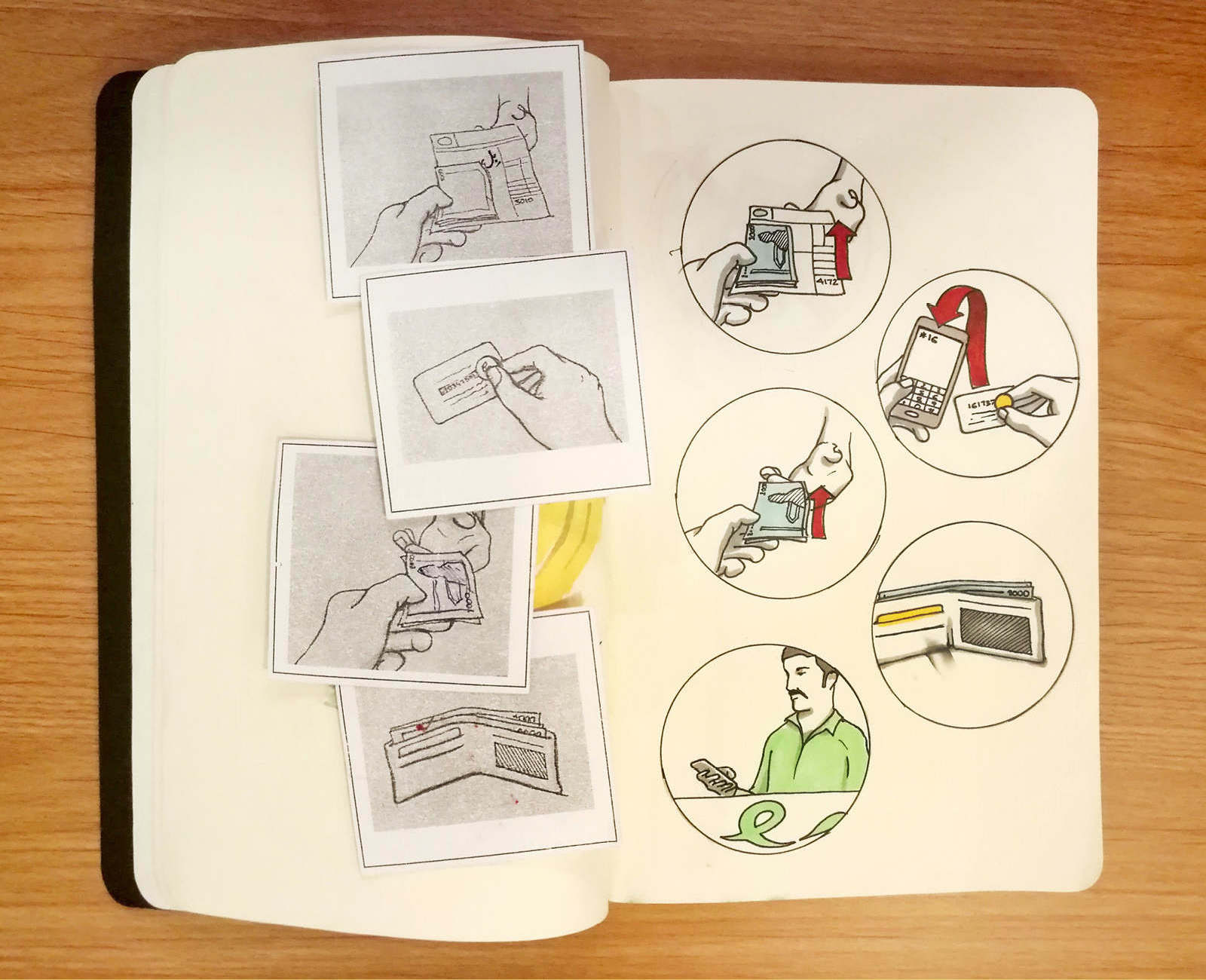 Phase 4: Prototyping & Testing
Once various elements within each concept had been extensively tested and appropriately developed, we began testing entire flows using low-fidelity prototypes of the entire application, gradually increasing their fidelity as we learned more. These prototypes allowed us to capture feedback from users and agents on the style, design, icons, flows and overall structure of the smartphone application.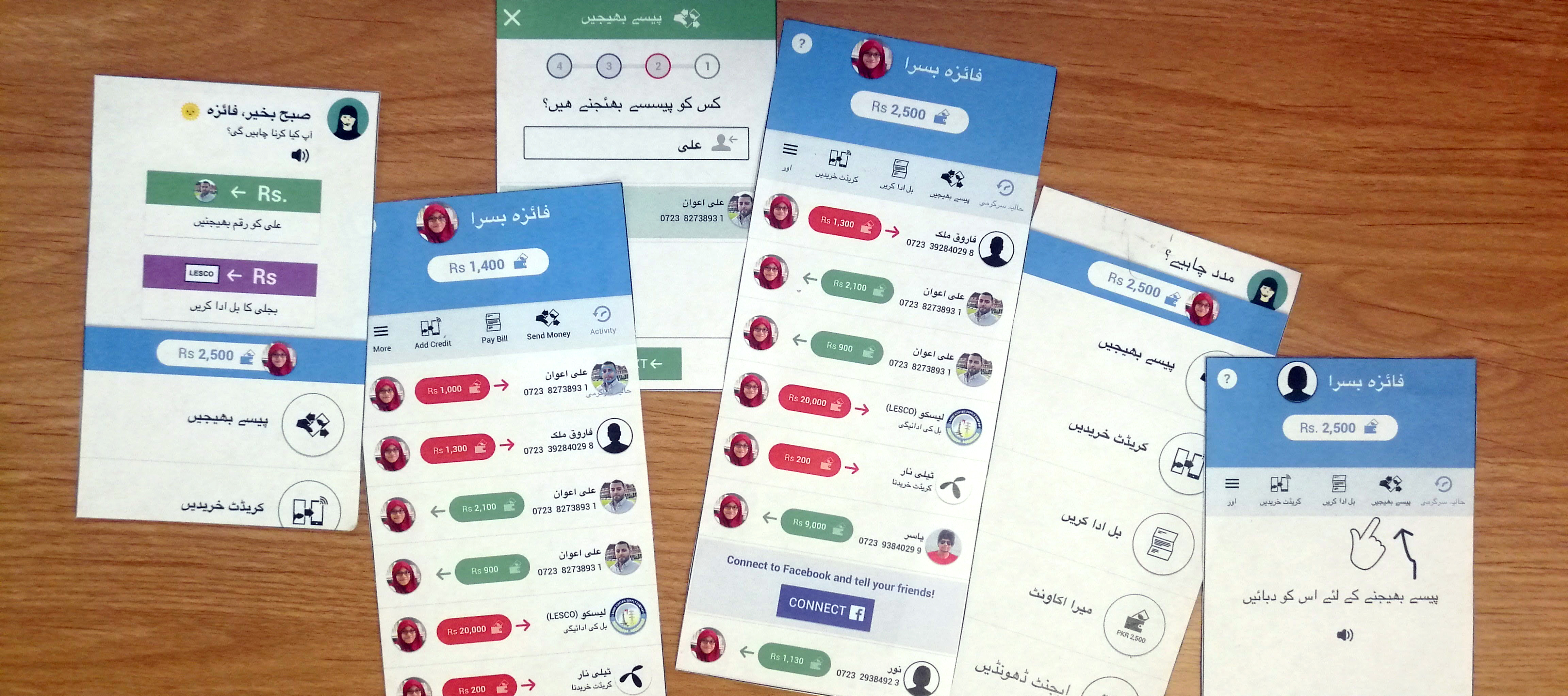 High-Fidelity Prototype Testing
We also used a high-fidelity clickable prototype to generate feedback from users on how the app worked. Here, we used task-based transactions to see how users engaged with the app, where they encountered difficulties, and how they interpreted transaction flows.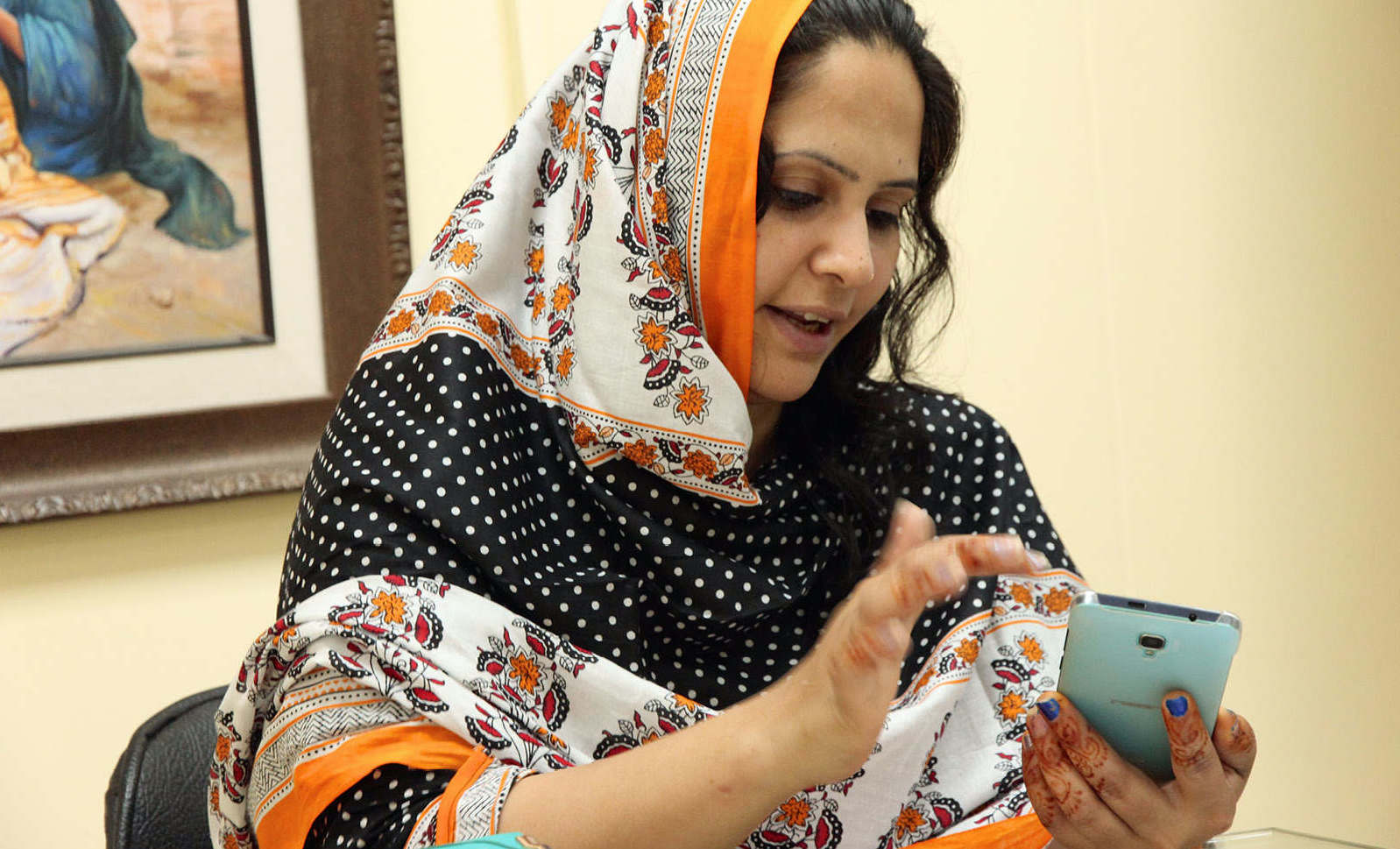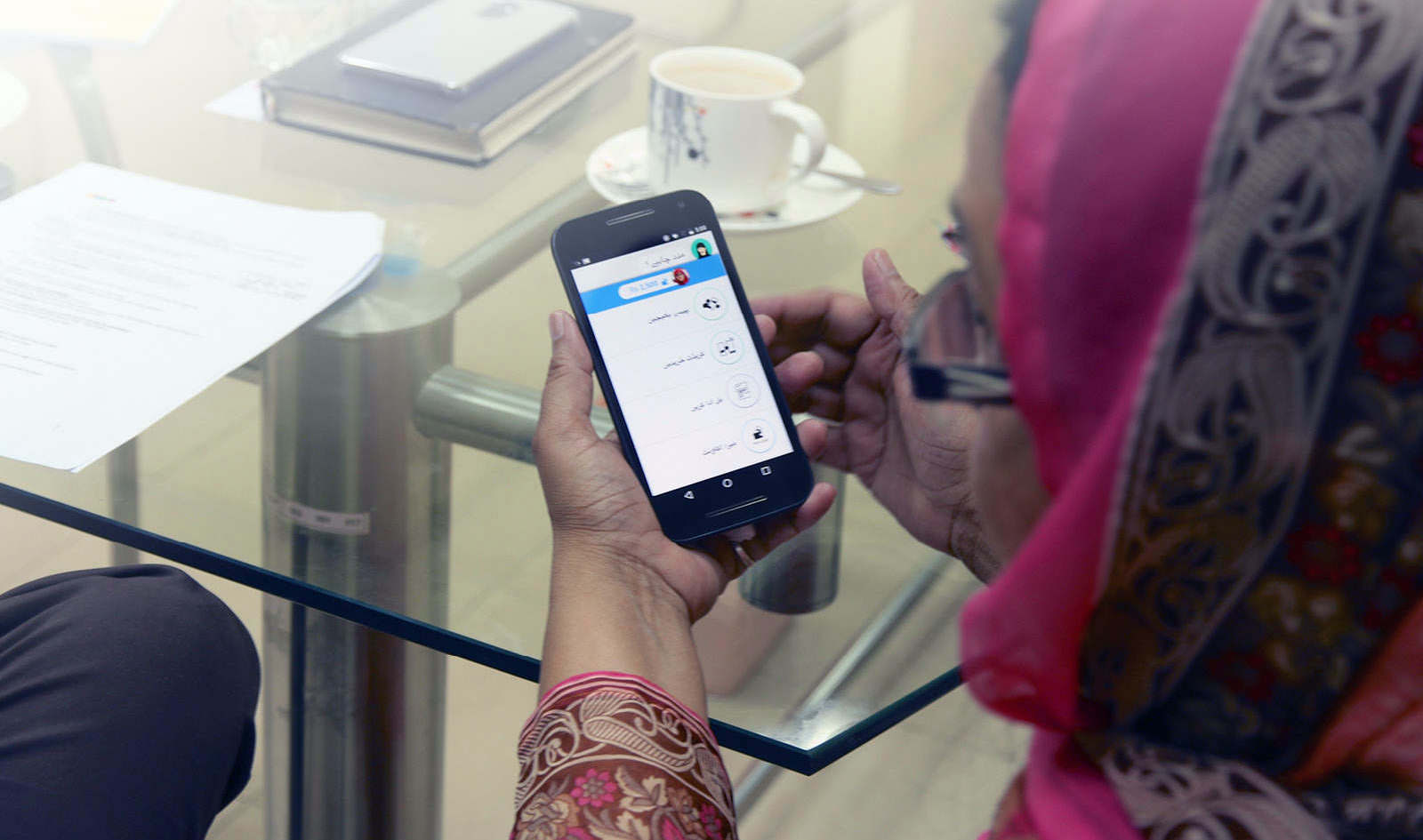 The Final Prototype
Our final deliverable to the client was a toolkit (linked at the end of this post) that any organization interested in designing a mobile money application could use. As part of this toolkit, we designed a comprehensive high-fidelity prototype of the application. The user interface design was lead by Adam Little, while I designed interface elements like buttons, icons and illustrations.