Ali Murtaza
Design Manager & Strategist
Childhood Immunisation Service Redesign
Design Lead at Innovations for Poverty Alleviation Lab | Funded by the Government of the Punjab | Lahore, Pakistan (2017)
The Problem
Pakistan has one of the worst childhood immunization rates in Asia, leaving millions of kids more susceptible to preventable, life threatening diseases. As design consultant for the Har Zindagi (Every Life Matters) Project, I worked with the team at Innovations for Poverty Alleviation Lab (IPAL) to redesign the booklet used by guardians of kids being vaccinated, and the smartphone app used by vaccination teams.

Existing Design (Front & Back)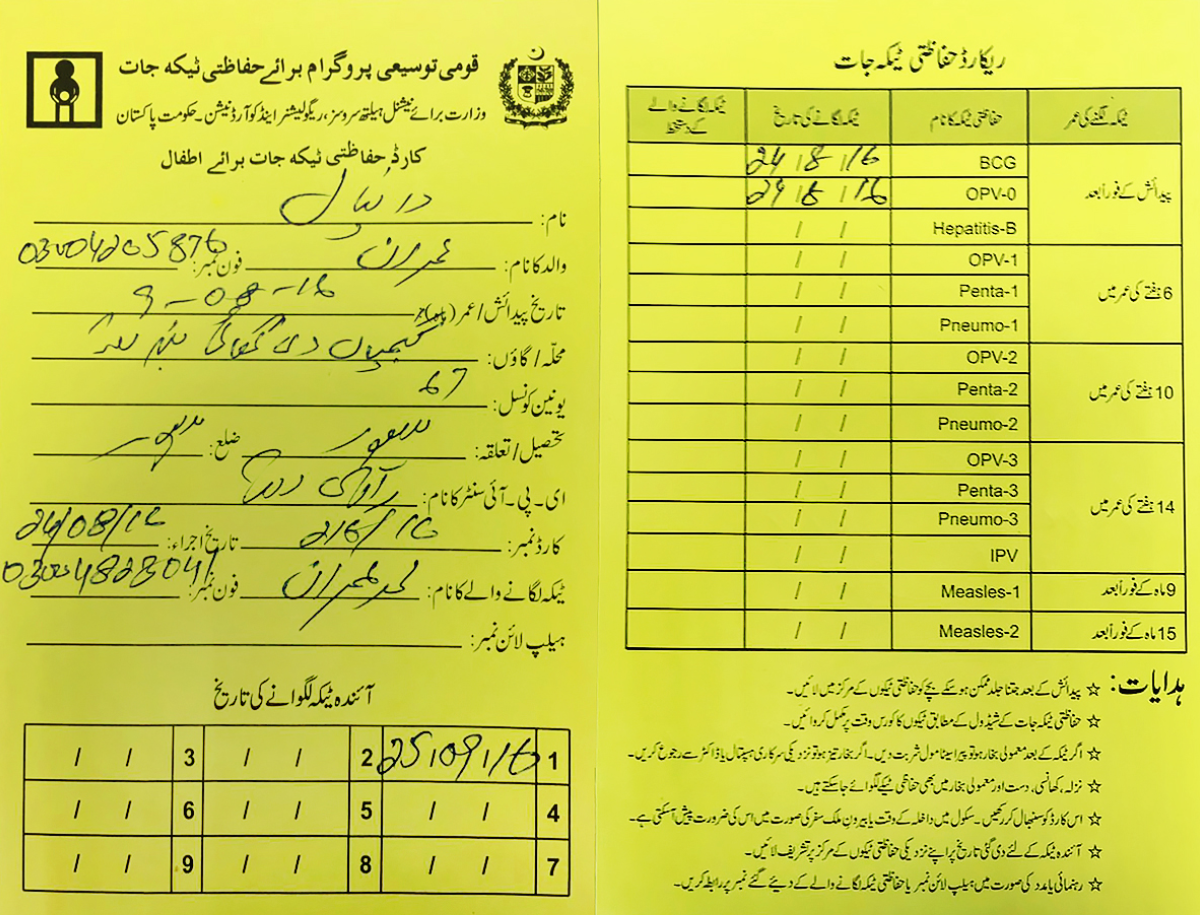 Problems with Existing Design
Loss/ Damage:
This is the single page leaflet used by immunizers across Punjab before this project started. Various flaws in this design were thought to be contributing to the low immunization rates. The biggest of these was that the leaflet could be damaged or misplaced easily. And since guardians of the vaccinated child were supposed to bring them to the local health clinic for their next dose on the dates filled in by the immuniser, losing the leaflet often led to missing or mistiming doses. This could potentially render vaccines ineffective.
Lack of information:
The information the one-page leaflet provided mostly focused on identifying each card- child combination, and not on providing any useful information to the child's caretakers.
Lack of accountability among immunizers:
The existing system did not incorporate any ways to monitor the progress and performance of the immunization staff. There was essentially no way to ensure that they were even going to each individual house to administer vaccines.

Design Objectives
Make the document handed to the child's guardians harder to damage or lose.

Educate them about the importance and specific purpose of various vaccines.

Help illiterate and semi-literate mothers follow the prescribed vaccination schedule.

Allow administrators to keep track of and cross-check each vaccinator's progress.

The Document's New Form
We made the new booklet resemble a Pakistani passport by replicating its size, materials and printing methods. Since gold-leaf printed green passports are already registered as important government documents, users are likely to think of a similar looking document as being similarly important. We hypothesized that that may help users take better care of this extremely important document, and our research reiterated that.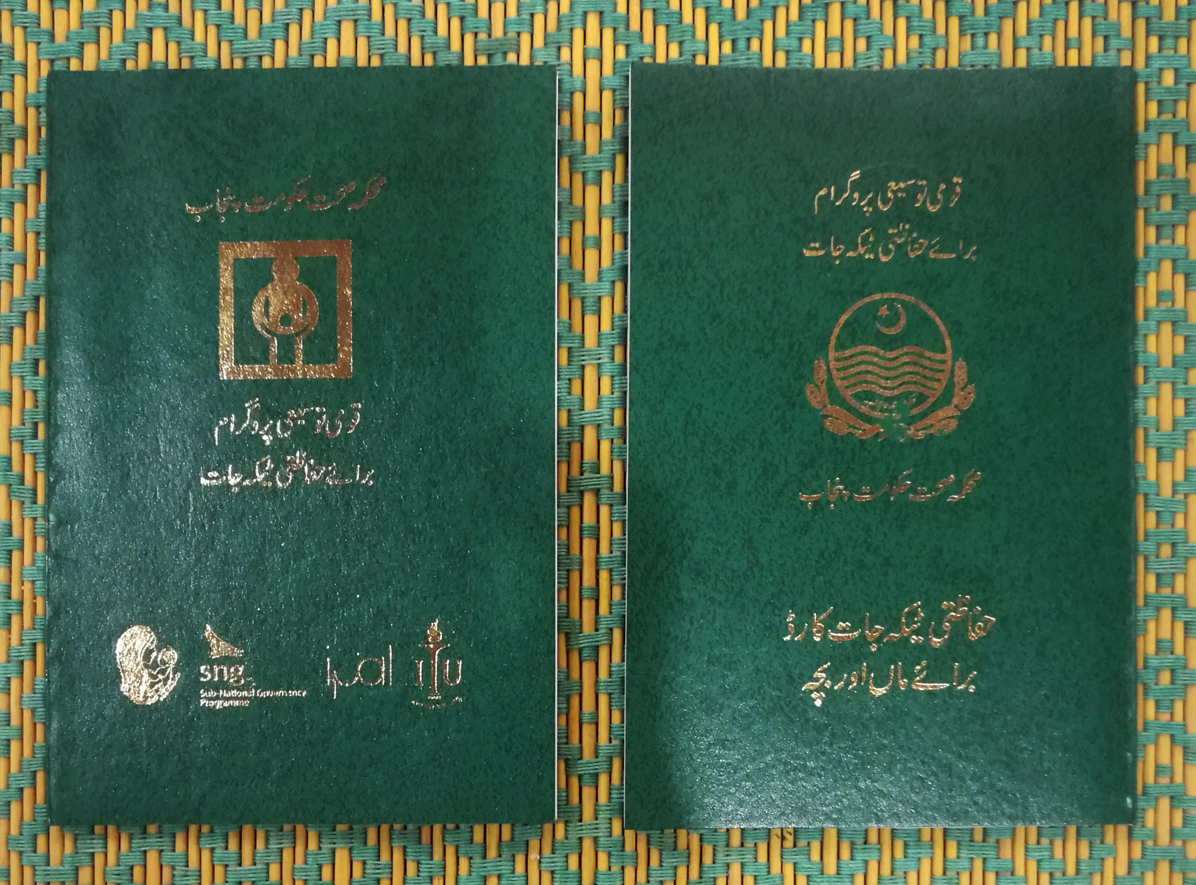 Building a Color Code System to Help Illiterate Users Understand Vaccines
To help educate semi-literate and illiterate users about the purpose of each of the eight vaccinations, we created a color code, where each vaccine's designated color matched with the body part(s) it helps protect. These colors as well as the simplified anatomical diagram were designed by testing several variations out with users.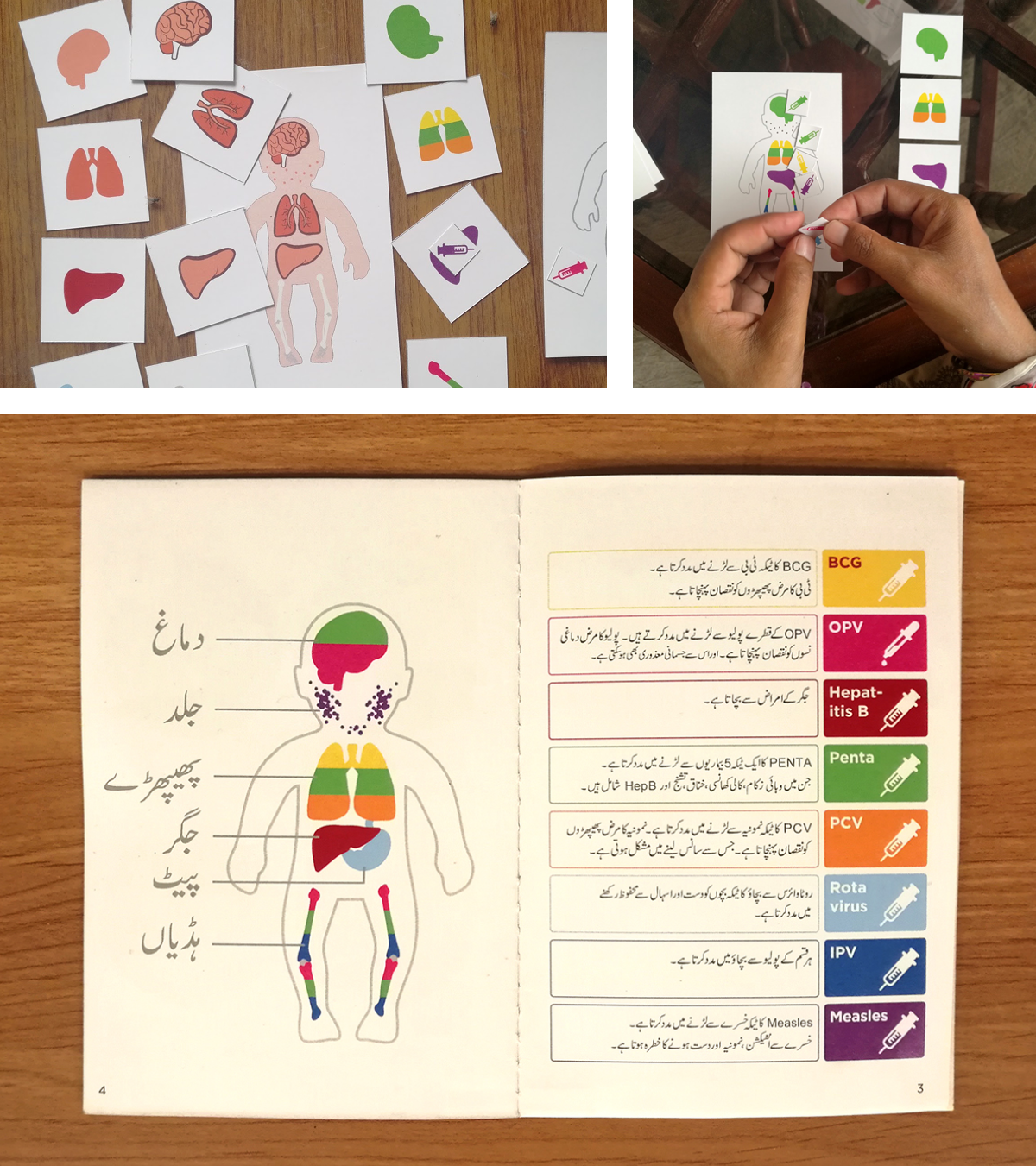 Illustrations to Signify the Child's Development Landmarks and Dosage Periods
We worked with a pediatrician to learn what actions the average Pakistani child performs at the ages each of their doses is due at. For instance, children are able to make tight fists around when they're 6 weeks old; the same age that their second round of doses is due. We created three illustrations for each developmental stage, allowing the child's guardians to know when a dose may be due, without needing to know the exact dates. Variations of each illustration were also tested with users before settling on the final 18 (three for each of the six stages).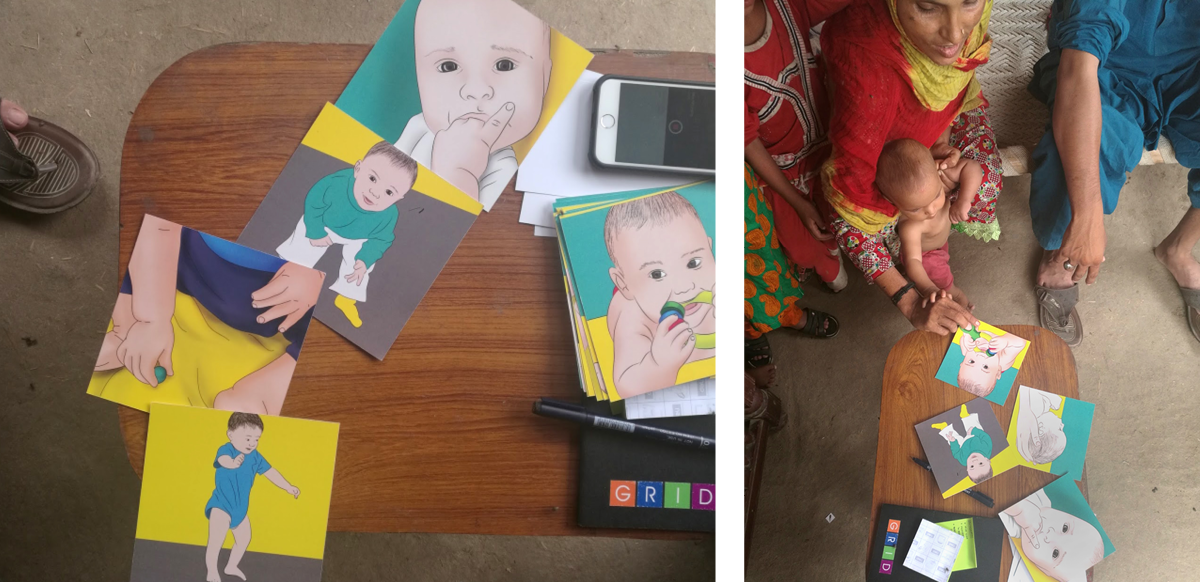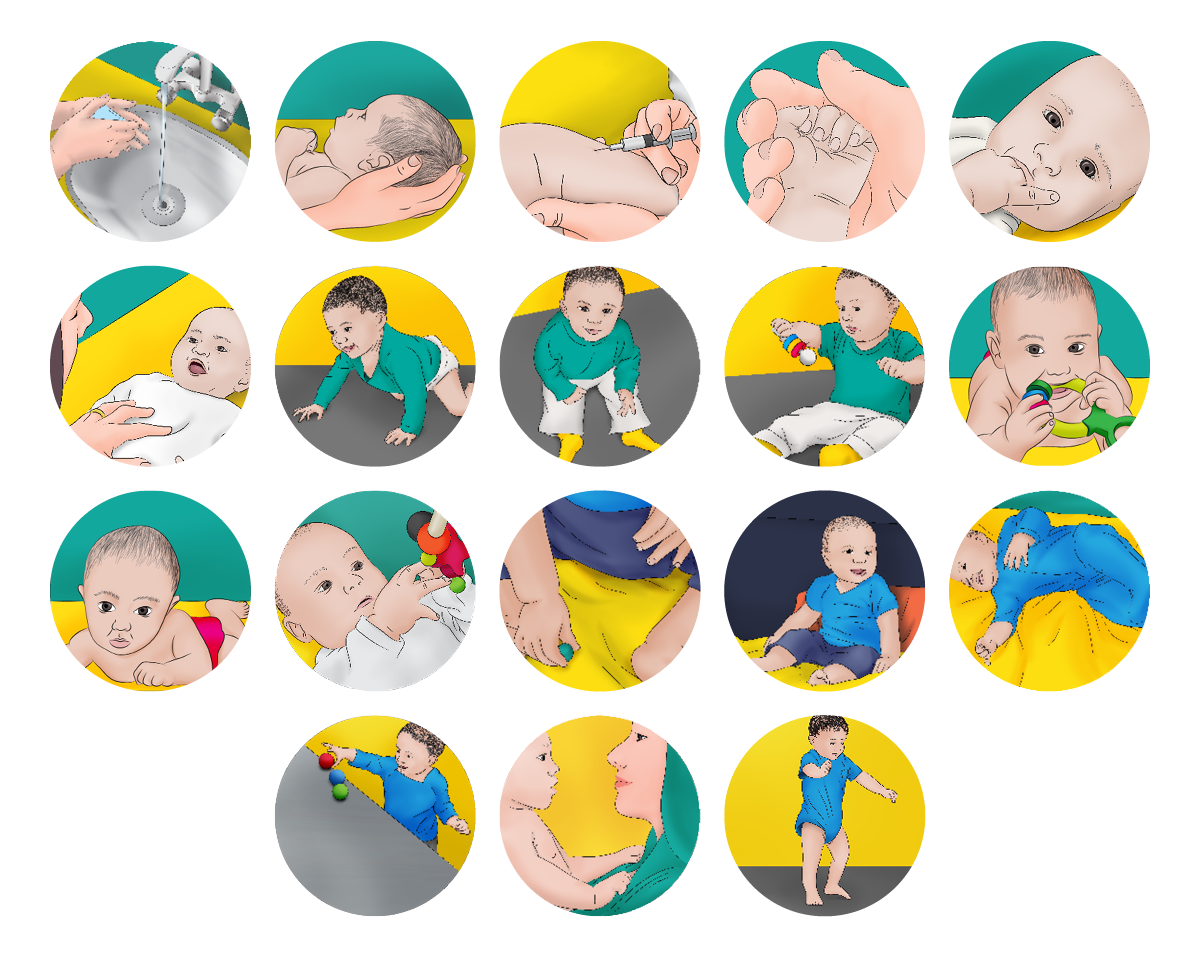 Selected Spreads from the Immunisation Booklet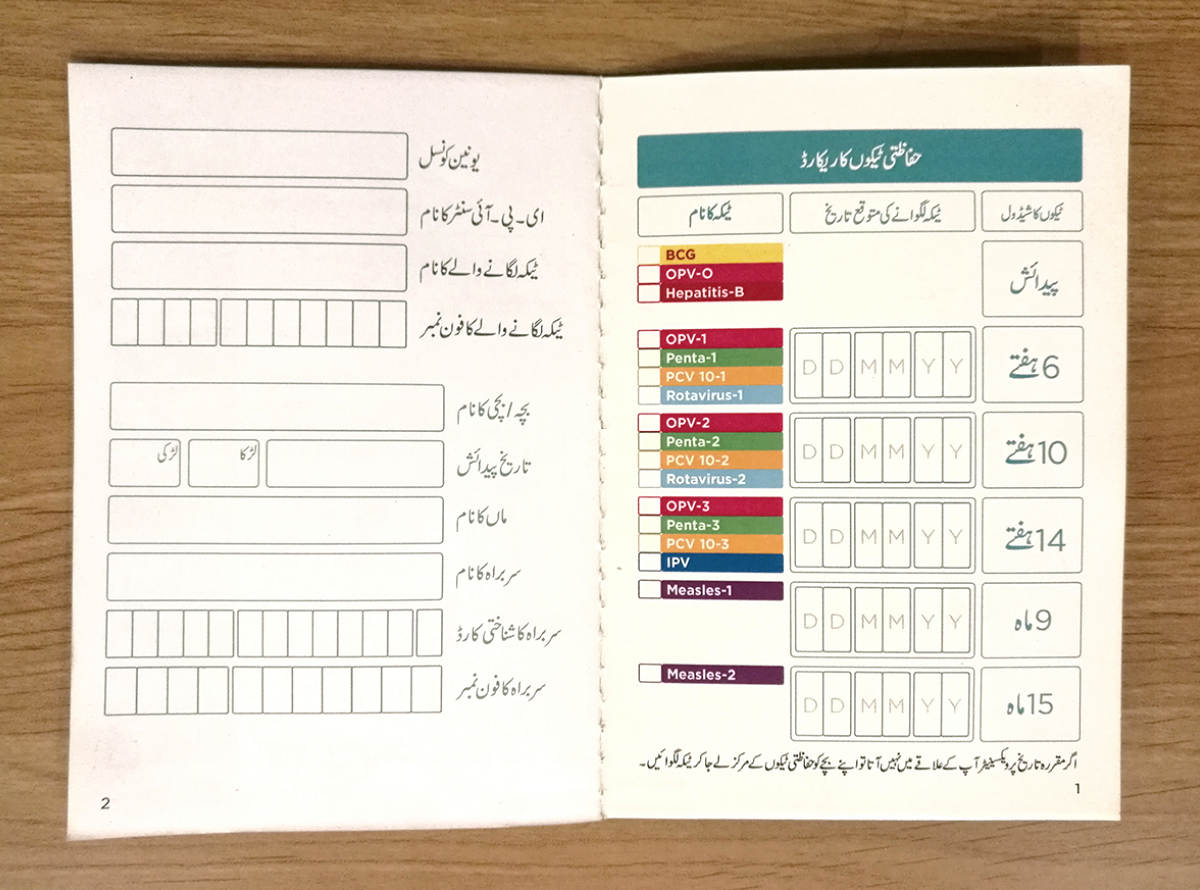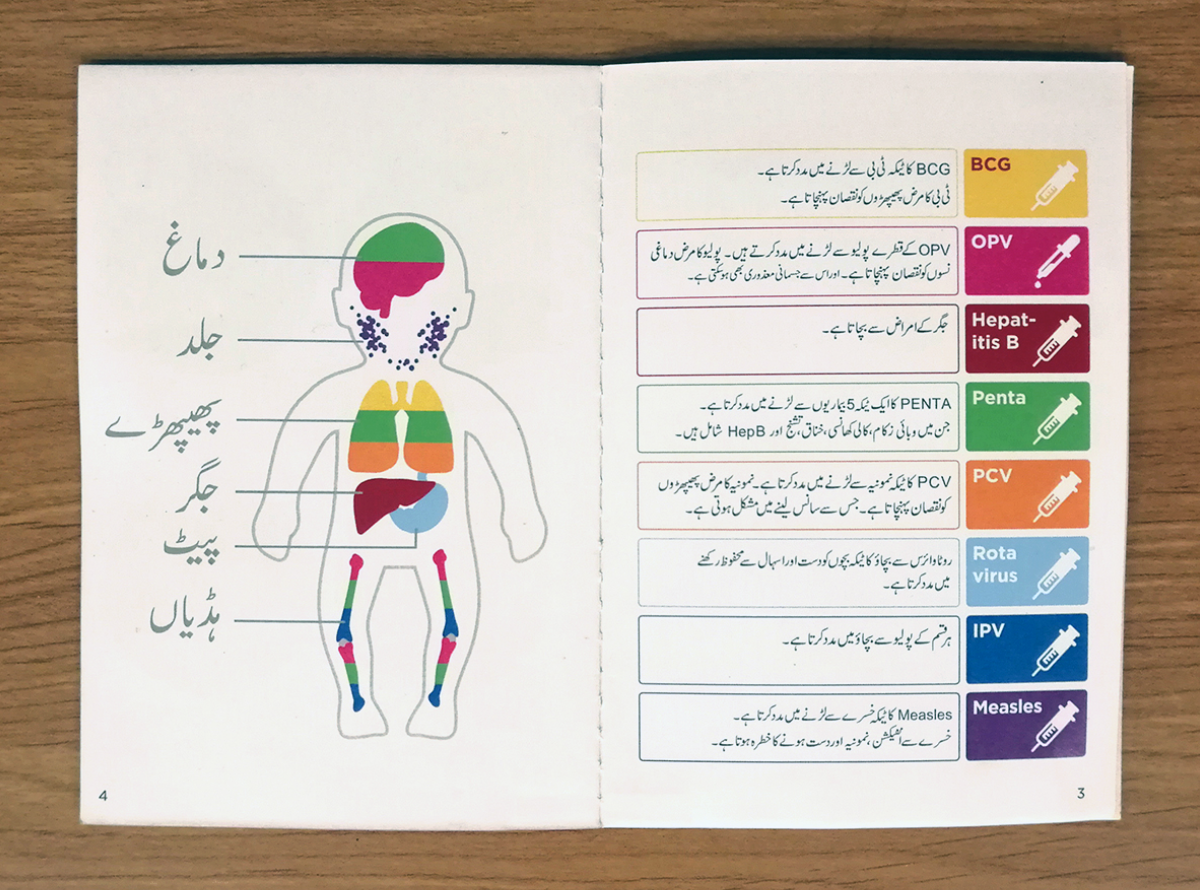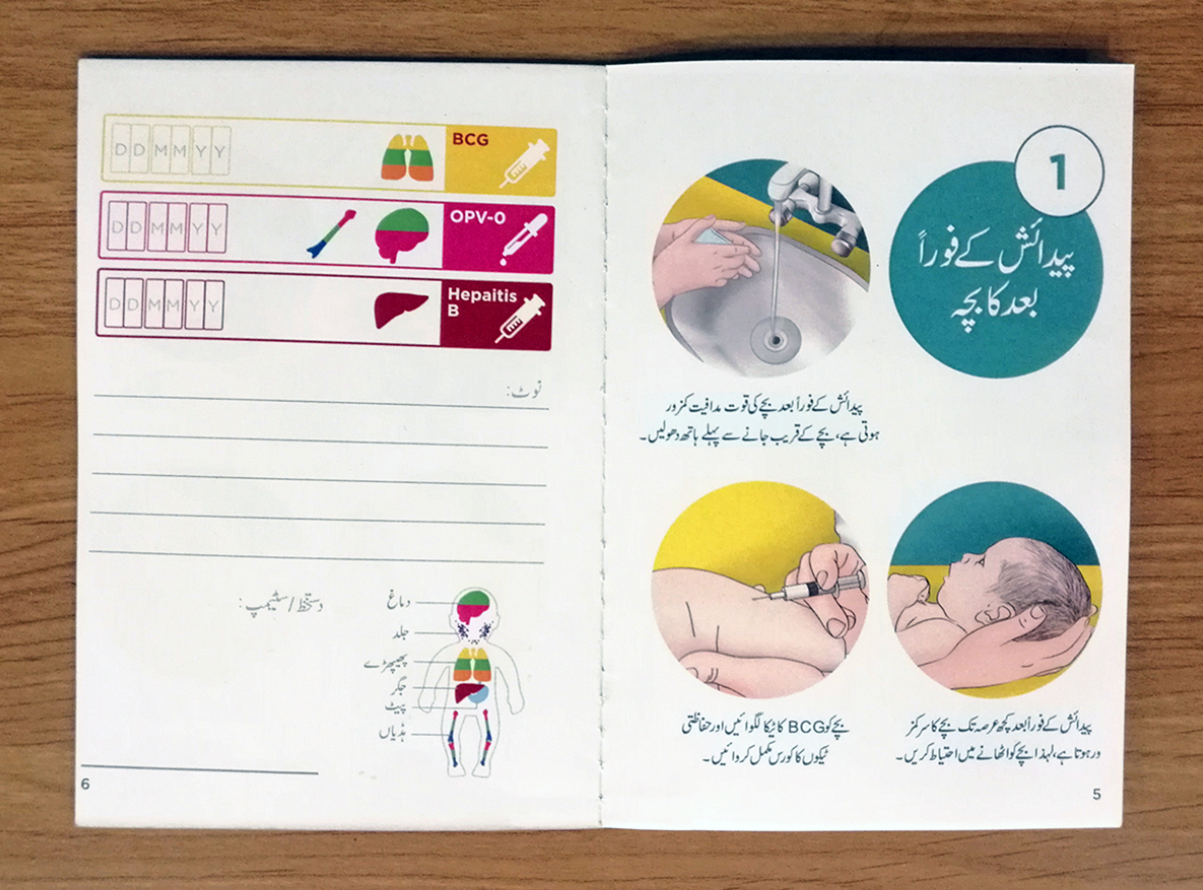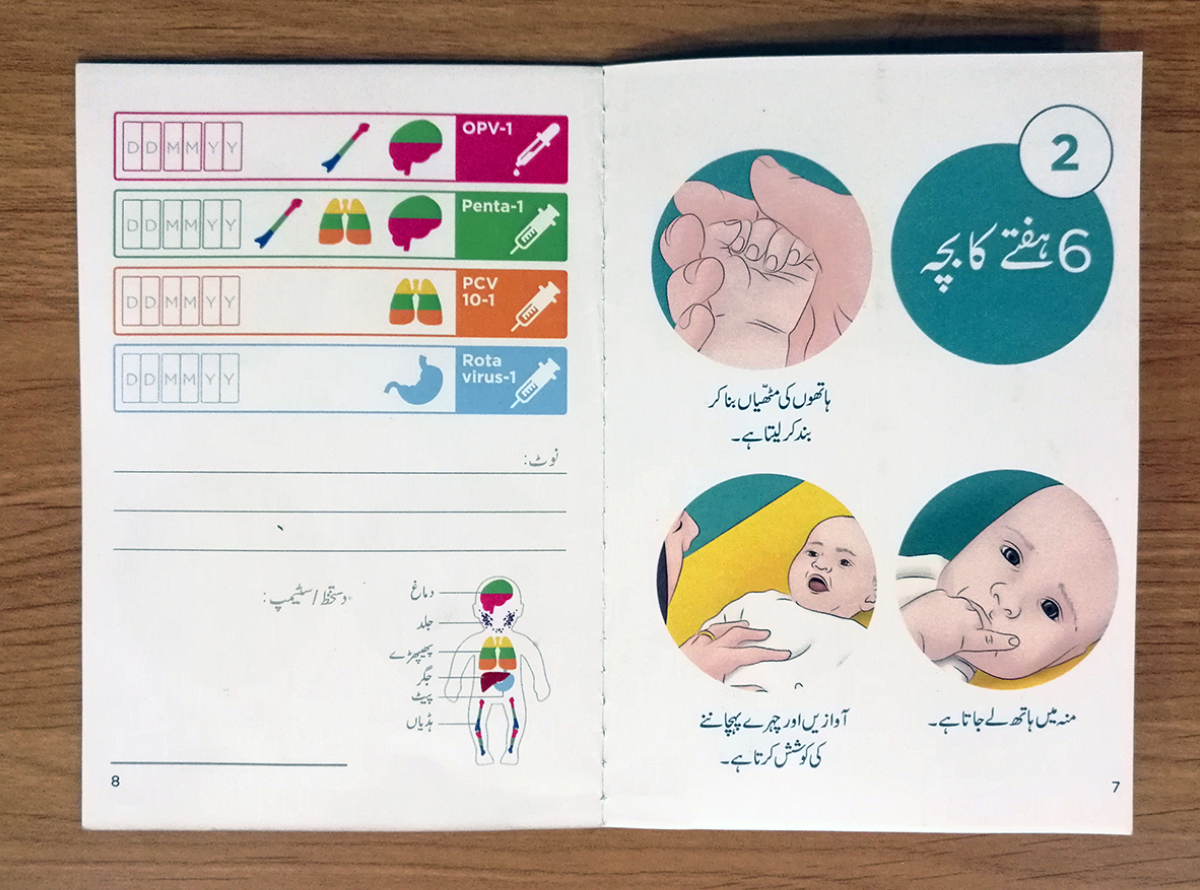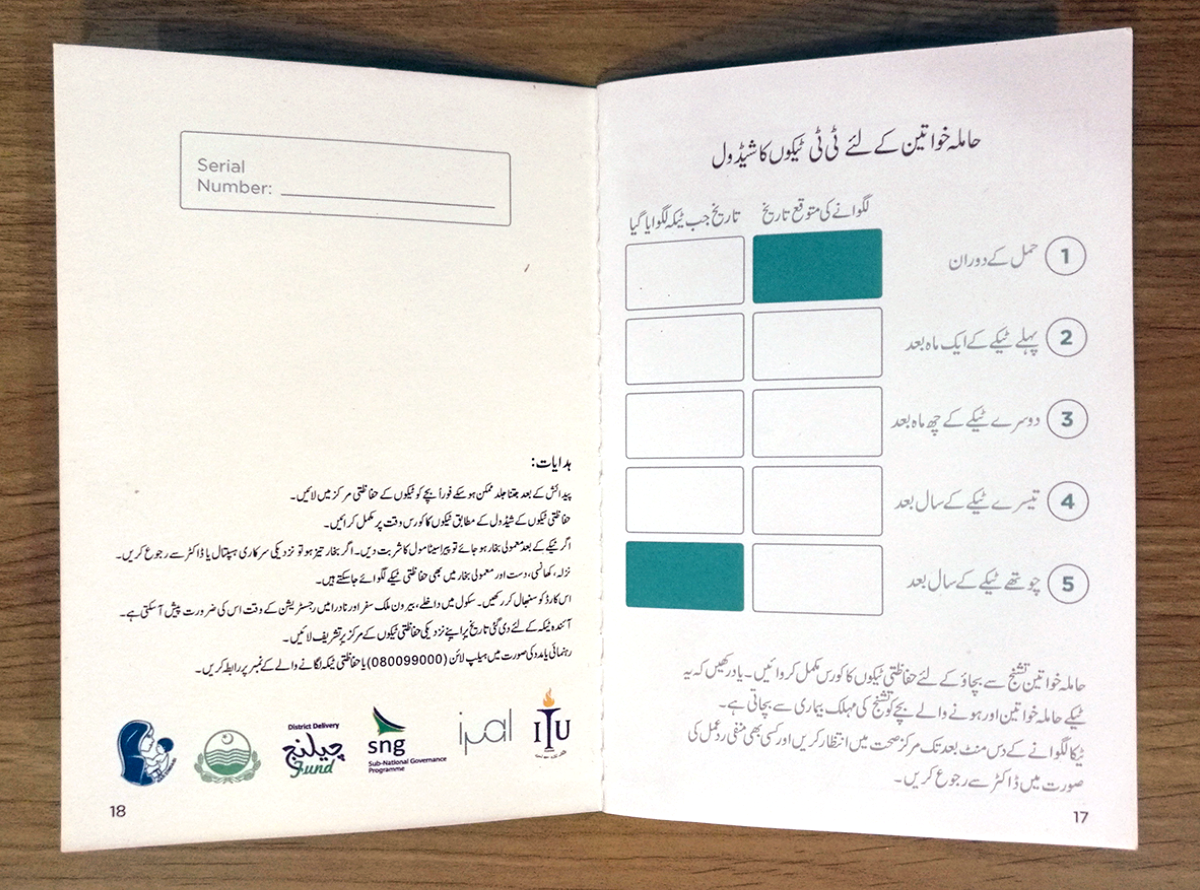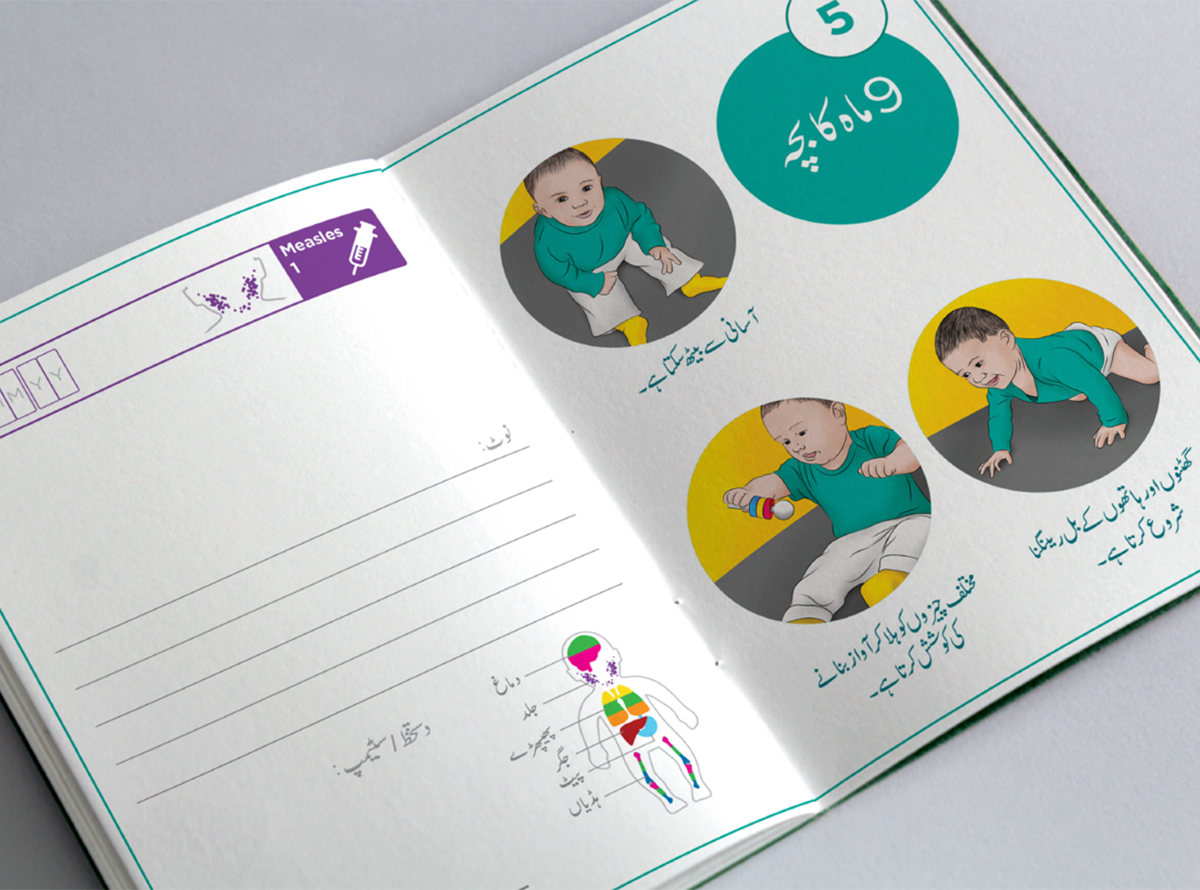 Selected Screens from Smartphone App for Immunization Teams
We also designed a smartphone app for immunization officers to enter vaccination updates into. Each child's personal record could only be opened by scanning an RFID chip inside the booklet's cover, ensuring that the officer had to be present where the booklet was (usually with the child's guardians) to update their record. The officer would then update the record in their app just as they did in the booklet. The updated data from their app would then be sent to a centralized storage that could be monitored by government teams through a web-based control center.